Spicy Theme Wordpress Theme - Rating, Reviews, Preview, Demo & Download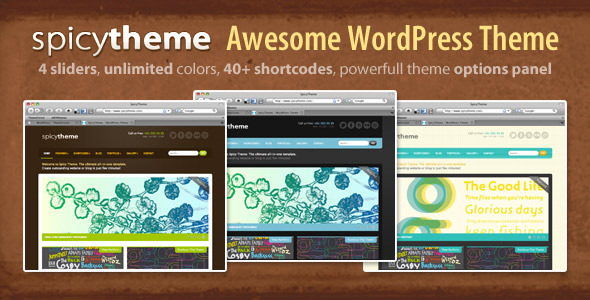 Follow for free plugins, new theme releases and theme newsFollow @wp_themes_dir
---
Theme Description
Spicy Theme is a Premium WordPress Theme with a powerful, but easy to use, Admin Panel and near endless customization possibilities. It has everything you need to start your new website in a few minutes.
Key features
Compatible with WordPress 3.5
Powerful Admin Panel (see screenshots)
Unlimited Sidebars
14 predefined gorgeous color variations (see them all)
Near unlimited colors customization posibilities (see screenshot)
13 pre-made background textures, all of them in 2 variants (light and dark)
6 pre-made background pictures
Built-in uploader for custom background textures and pictures
4 awesome sliders – Nivo Slider, Anything Slider, Accordion Slider & Galleria Slideshow
Separate sliders for home page and blog page
Scrollable shortcode (see example on our demo home page)
Nivo Slider shortcode – place it wherever you want (see examples)
40+ shortcodes (see examples)
Shortcodes with many different variations (for example 72 button variations, all of them in 3 sizes)
Custom colors for many of shortcodes
Home Page built with shortcodes – you can customize it to your needs
Custom post types for Portfolio and Slides
Custom portfolio taxonomies (portfolio categories and portfolio tags)
8 portfolio layouts
19 custom templates (home page, blog, portfolio, single page, gallery, 404, search)
5 default sidebars – footer sidebar, blog sidebar, portfolio sidebar, gallery sidebar and page sidebar (for standard pages)
Support for WordPress built-in galleries (see example)
Amazing Galleria script for galleries (see example)
PrettyPhoto (Lightbox clone) with video support (YouTube & Vimeo)
Full video support (YouTube, Vimeo, Dailymotion, self-hosted videos – see examples)
8 custom widgets (see the list)
Automatic thumbnails generation with TimThumb
Social icons (right side of the page header) for 20+ websites/services + sharing button
Font replacement with Google Web Fonts – choose between 500+ free fonts
WordPress Menu support
Custom styles for WordPress built-in widgets
High-quality, SEO-optimized XHTML/CSS code
Translation ready (.mo/.po files included)
Layered PSD file included
Support for Contact Form 7 (custom styles)
Extensive documentation
Sample content
Premium Customer Service
Templates List
Home Page
Blog page with right or left sidebar
Portfolio – 1 column with sidebar (left or right)
Portfolio – 2 columns without sidebar
Portfolio – 2 column with sidebar (left or right)
Portfolio – 3 column without sidebar
Portfolio – 4 columns without sidebar
Portfolio – big images list without sidebar
Portfolio – medium images list without sidebar
Portfolio – small images list with sidebar (left or right)
Portfolio – small images list without sidebar
Gallery without sidebar
Gallery with right sidebar
Gallery with left sidebar
Single page without sidebar
Single page with left sidebar
Single page with right sidebar
Search page
404 error page
Customer Support
We want our customers to be fully satisfied with our themes, so we provide an extensive customer support. We won't leave you with your troubles and we will answer all your questions.
Additionally, if you need or want to use some plugins or widgets which don't look or works very well with our theme, please let us know – we will try to adjust them for you. If our theme doesn't have some functionality you need to have, please let us know – maybe we can add this in the near future or even in a few hours.
Testimonials from our Customers
silentfool: Love, love, love the theme. It is probably the most thoroughly developed and well thought out theme I've ever used.
pauljenkins: I just purchased the theme – amazing work here! Great job. Awesome support!
argos: Amazing theme. Amazing support. You are receiving my 5 stars!
doodelicious: Your theme is amazing, and your service is outstanding!
EbonyLove: I can't sing the praises of this template or this designer enough. The template is SUPER powerful, packed with features, robust, clean, beautiful… and yet, it's easy to use too. I was just about to pay LOTS of money to a web designer to do this for me, but she encouraged me to find a template with great support and said I could probably manage it on my own. I'm glad she pointed me to ThemeForest where I found this theme.
cherylb22: Great theme and great support. Even when I do silly things late at nite by reading instructions wrong! . Will definitely look to purchase more themes from e404.
modern_blue: Awesome theme & best admin panel I've ever seen!
bmasvaleix: Great theme, thank you for the work you put into it. Very happy with my purchase!
XianCSPL: nice theme! This has already saved me from several big headaches that the previous "premium" theme I purchased has been giving me. Thanks for the work.
modern_blue: Awesome theme & best admin panel I've ever seen!
seethaler: Downloaded Spicy Theme on Monday. After three days, some significant modifications to satisfy a client, and excellent developer support, I'm happy to offer up Five Stars for the theme. It's excellent, and the support is top notch. We chew up and spit out a lot of premium themes. Do yourself a favor, buy Spicy Theme. You'll be glad you did.
iamchris0: Just want to say that this theme is excellent. Within just a few days I have my site up and running. I had no problems at all with setting up the theme, but support was superb when I enquired about modifications/tweaks to the layout. 5 stars to this theme and it's developer. I cant fault it in any way.
Changelog
1.10 – 14 June 2012

[Fixed] WordPress 3.4 compatibility
[Fixed] Category title for the blog intro text box

1.9 – 26 March 2012

[Added] New fonts for the font replacement (over 500 free fonts available)
[Added] Option to open links to social websites in a new window
[Fixed] Better WPML and qTranslate support
[Fixed] Some styling issues in the admin panel
[Fixed] Portfolio pagination for custom items per page number
[Updated] TimThumb to version 2.8.10
[Updated] Nivo Slider to version 2.7.1
[Updated] Anything Slider to version 1.7.27
[Updated] Anything Slider Video to version 1.3

1.8 – 28 October 2011

[Added] New fonts for the font replacement
[Added] Nivo Slider shortcode
[Added] Custom IDs and classes for widgets
[Added] Video extension for Anything Slider
[Added] 'Target' param to [button] and [link] shortcodes
[Added] Dashboard widget with informations about themes updates (can be removed)
[Added] Menu order for slides
[Fixed] Titles for slides (qTranslate support)
[Fixed] Menu default fonts
[Fixed] Issue with IDs in the Twitter widget on some servers
[Fixed] New Twitter API URL
[Updated] Anything Slider to version 1.7.12

1.7 – 9 September 2011

[Added] New fonts for the font replacement
[Fixed] IDs for Google Web Fonts stylesheets
[Fixed] Better timeout handling in the Twitter script
[Fixed] Undefined title issues in PrettyPhoto
[Updated] TimThumb to version 2.8
[Updated] AnythingSlider to version 1.7.11.5
[Updated] Sample data file

1.6 – 2 August 2011

[Added] New fonts for the font replacement
[Added] Behance, Foursquare, LinkedIn, Google+ and Xing to header social icons
[Added] Xing to the sharing widget
[Fixed] Some icon file names
[Updated] Some widget limits increased
[Updated] TimThumb to version 1.34
[Updated] Meta Box class to version 3.2.2 (fixes WordPress 3.2 QuickEdit issue)

1.5 – 5 July 2011

[Added] New fonts for the font replacement
[Added] Categories selection in Recent Posts and Popular Posts shortcodes
[Added] Flickr widget - secondary feed fetching method for servers with the URL file-access disabled
[Fixed] Setting header text color in accordions and toggles
[Fixed] Breadcrumbs navigation for nested pages and categories
[Fixed] New Twitter sharing URL
[Fixed] Portfolio Tags widget - missing before/after values
[Fixed] Setting the opacity for header social icons
[Fixed] Author bio box on a single blog post page
[Updated] prettyPhoto script to version 3.1.2
[Updated] Nivo Slider script to version 2.6
[Updated] TimThumb script to version 1.30

1.4 – 11 May 2011

[Addes] New header social icons (AIM, e-mail, Google Talk, Yahoo IM)
[Added] New fonts for the font replacement
[Fixed] Default value for the header contact box
[Fixed] Share This button issue (Chrome & Safari)
[Fixed] Tabs and Galleria shortcodes conflict
[Fixed] "Alt" attribute for the header logo
[Fixed] Bad spacing on the blog page

1.3 – 18 April 2011

[Added] Unlimited custom sidebars
[Added] Spanish translation (provided by argos)
[Added] Categories selection in Recent Posts and Popular Posts widgets
[Added] Defining post thumbnails height in the Admin Panel
[Added] Links to statuses in the Twitter Widget
[Added] Twitter widget - secondary feed fetching method for servers with the URL file-access disabled
[Fixed] Fixed comment form fields, which were disabled in some situations
[Fixed] Fixed default values for Intro Text Boxes in the Admin Panel
[Fixed] Fixed the menu background effect selection in the Admin Panel
[Fixed] Fixed the blog category listing in breadcrumbs
[Fixed] Some minor improvements in theme styles
1.2 – 16 April 2011

[Added] Preview thumbnails instead of styles text list in the admin panel
[Added] Font replacement for dropdown menu
[Fixed] Default styles for lists
[Fixed] Posts align on the search page
[Fixed] Removed an icon with a comments number when post comments are disabled

Images used on the demo site:
---
Reviews & Comments