Polyon Wordpress Theme - Rating, Reviews, Preview, Demo & Download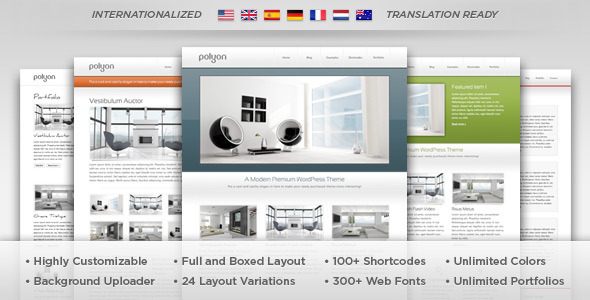 Follow for free plugins, new theme releases and theme newsFollow @wp_themes_dir
---
Theme Description
Polyon is a WordPress theme of the next generation and best suited for small and big businesses.
With 350+ admin options (see here) it is one of the most customizable themes here on ThemeForest.
The SEO optimized theme lets you choose between 300+ fonts, you have extensive color and typography options (yes, you can even change the font size) and with the background uploader you can easily personalize your website.
No HTML/CSS knowledge is needed to create unique designs.

The visual shortcode generator with 100+ shortcodes is as easy as clicking a button and helps you to format and spice up your content the way you want it.
You're also free to change the sizes of ALL images, thanks to Polyon's dynamic image resizing capabilities.
The layout can be set to boxed or full-width and you decide weather you want a bold or minimalistic look.

With the choice between 8 different front page styles and 24+ layout variations for your blog and portfolio pages, it's a breeze to find the right style.
Sidebars are unlimited too, just like the number of your portfolio pages.
Polyon is translation ready, with English, Dutch, French, Spanish and German already included.
I could go on and on, but you should check out the Live Preview to see it for yourself.
I've created a Customizer for it, so you can play with all the different layout options and colors. Enjoy!
Key Features
350+ Admin Options (see here)
Even though Polyon has a ton of options, it works completely out of the box.
The options just give you the freedom to to customize almost every single corner of the theme if you want to.
Unlimited Colors (see here)
Set which ever color you like for 43 objects in the theme via color picker.
You don't have to set every color separately.
With the QuickPicker you can set one color scheme and all other fields get synced automatically.
Unlimited Portfolios (see here)
Set up as many portfolio pages as needed.
You can even adjust the height of your featured images for every page separately if you have one portfolio for websites whose images need to be in landscape mode and one for portrait photography.
You can also choose to disable excerpts, title or featured images.
Unlimited Sidebars (see here)
Create a sidebar, fill it up with widgets and assign it to any page you like.
Unlimited Layout Combinations
Pick from a variety of column and grid layouts, full width or with sidebar, with or without excerpts, buttons, or featured images.
Design your site your way!
SEO Optimized
Polyon was designed with SEO in mind from the start.
HTML5 makes it possible to assign H1 tags not only to the site title, but also to the main post and page titles.
In the code hierarchy the content is always placed before the sidebar, regardless of its position.
100+ Shortcodes with Visual Shortcode Generator (tons of optional display settings)
You never have to remember a shortcode again.
With a few clicks you can configure your shortcode and even get a preview how it will look.
300+ Fonts (support for Google Web Fonts and integrated Fonts via @font-face)
Not only that you can pick between 300+ Fonts, you can also apply them to various areas of your site.
Endless possibilities.
Background Uploader (see here)
You can not only choose from the backgrounds that already come with Polyon, but upload your own images for 3 different areas of the theme.
Full and Boxed Layout
Besides the default (full) layout you can pick between 2 boxed layouts and apply backgrounds to them.
8 Front Page Variations
Choose between 4 Sliders and 4 layouts for videos or images.
Then pick a page whose contents you want to show on the front page.
Minimalistic Layout Option
If you don't want a fancy 3D look with shadows and shades you can easily switch to a minimalistic look that removes all the bells and whistles and leaves the theme with a clean look.
Extensive Typography Options (see here)
You have full control over 300+ fonts and Polyon lets you even adjust their sizes for various areas of the theme.
8 Custom Widgets
Social Links, Contact Data, Latest Posts (List and Image Style), Latest Work (List and Image Style), 125 Pixel Ads, Flickr Stream, Twitter
Image Size Options (see here)
Polyon gives you absolute control over every image on your page.
This is especially great for photographers, since you can pick default sizes to crop your featured images or simply set them to adapt the height.
If you need to make an exception, no problem – simply change the settings for a single page, or overwrite the featured image just for the page view and not for the blog overview.
Also notable: No TimThumb is needed. So you don't have to worry about security issues, folder permissions and weirdly cropped images.
Child Theme Support
Polyon is a robust parent theme, so if you want to change something, all you have to do is to use the integrated child theme skeleton and overwrite the already existing functions.
This way the original theme stays untouched and you can preform updates – no code gets lost.
State of the Art WordPress Framework
You could also call it "the engine" or "the heart" of the theme.
Polyon is based on a hightly flexible and modular framework thats purpose is to make the theme ultra customizable and rock solid at the same time.
Demo Content available
You can easily import some dummy content to get a quick start with the theme.
It will automatically create some posts, pages, portfolio and featured items to play around with, till you feel comfortable.
More Features
Translation Ready: English, Dutch (thanks to Frans Pronk of IFRA), Spanish, French and German already included
Cross Browser Compatible (all major browsers supported)
24+ Blog and Portfolio Layouts
3D Flash and jQuery Sliders
Logo and Favicon Uploader (see here)
Extensive Color Options (see here)
Dynamic Image Resizing
Optional Header Bar to display phone number, menus or anything you want
Child Theme Skeleton included (to make it as easy as pie to create your own Child Themes)
HTML5 and CSS3 Framework
Lightbox Flash Video Support
Featured Embedded Flash Video Support
Custom CSS Support (via Admin Panel)
AJAX Contact Form
All Demo Background Images included
Extensive Documentation included
Admin Options
Buyer Testimonials
I have purchased both the html and wordpress versions of this theme and I cannot tell you how amazing this is to work with. I have been a blog designer for 10+ years and I have worked with hundreds of templates, but this one is very easy to use and simply beautiful to customize. The shortcodes is the best feature, you give so many shortcodes that they really make the site unique. Thanks again.
What a great theme! Many other themes has some great featured, you put them all together in one theme, excellent job!
Thanks Ruven for the awesome Customer Support! This theme is 5 star for many reasons. Most importantly the ease of child themes. I do a lot of custom CSS and theme manipulation, and this feature has me blown away. Now I can keep all my customization in one place and not worry about losing them in future theme updates. This theme is feature rich, I installed, learned, and populated the full site from scratch in 3 days! I am ahead of official launch by a full week! Amazing turnover time. The client is very happy, and I am too. Thanks!
This is by far the slickest theme I have purchased to date! In LOVE ! Thank YOU !!!
OMG !!! I am sickened! Angry!! Dissapointed!! Pee'd off!! Why have I spent my money unwisely? I should have been just waiting for this theme from the start. It is frickin awsome looking and from what I see is very intuitive to use. It will just have to be the next on my list of purchases. I have lost count of then number I am up to now, but this will be at the top I think.
OH WOW !!!!
I am totally thrilled with Polyon! I am an upper beginner WP user, no code knowledge, I have purchased several themes only to experience frustration and sub par support, most of my frustration with other themes has to do with image handling (Tim Thumb script,cropping issues,size problems and so on) some layout problems and functionality issues, to the point I buy another theme, after some inquiries to the author hoping for better results.
I have owned Polyon for 2 days, and I am able to create pages and posts and layouts and portfolios and galleries just like how I imagined them!! Not to mention Ruven's precise,timely and accurate support.
I really appreciate the professional look and feel of this theme, my site is geared towards investor/trader's so presentation is very important to me. I highly recommend this theme! Today is the first day I can see the reality of my sites goals. Next task Rate this theme 5 stars! Thanks!
Just wanted to send out my respect to the creators of this theme. Best theme I have ever worked with. Easy to use and looks freakin' awesome!!! You guys rock, keep it up! If someone is thinking about getting this theme … STOP THINKING AND GET IT !
Just purchased Polyon. Some themes are good. Some are great. This theme is a masterpiece. Can't wait to create with it.
I have to say once again, I've used a number of wordpress themes and nothing comes CLOSE to everything you've done in this one!!! I hope you'll make another!!! Also your tech support is unbelievable.
General comment for anyone considering buying this theme…
It's terrific. It's incredibly customizable for anyone with no knowledge of CSS , due to the very detailed admin pages. And, if you know just a little CSS , it's pretty much infinitely customizable due to the ability to modify the CSS code through the admin pages—no need to actually edit the CSS files!
In addition, if you have any questions about how to do pretty much anything, you will almost definitely find your answer somewhere in the 35 pages of these comments. That's because Ruven, the theme creator, answers every question, and quickly. He's answered several of my questions around customization of the theme. I'd expect support around installation and basic features, but I also expected that, once I started messing around with the CSS code, I'd be on my own, since it's an off-the-shelf theme that only cost $35. But, Ruven has been very helpful with all my customization questions.
Front Page Slider
Nivo Slider
Cycle Slider
Cycle Slider (Alternative Layout)
Piecemaker 2 Slider (3D Flash)
Single Image
Single Image (Alternative Layout)
Single Video
Single Video (Alternative Layout)
Most Important Shortcodes
Columns (1-6 combinable columns)
AJAX Contact Form
Gallery
Image
300 Text Icons
Blog Posts (in 24+ Layout Variations)
Portfolio Entries (in 24+ Layout Variations)
Pages (in 24+ Layout Variations)
Tabs (vertical and horizontal)
Toggler
…
Most Important Layout Options
Layout Size: Stretched / Boxed
Boxed Layout Apperance: Shadow / Border / Nothing
Layout Style: Default / Minimalistic
Default Sidebar Position: Left / Right (can also be set for single posts and pages separately)
Default Sidebar Style: Default / Wide (can also be set for single posts and pages separately)
Rounded Corners: on/off
Sliding Links: on/off
Header Bar: on/off
Header Bar Style: Border / Content
Header Height
Main Navigation Style: Button Nav / Simple Nav
Top Bar: on/off
Top Bar Style: Border / Headline Text
Glass Shine: on/off
Footer: on/off
Footer Columns: [6 Variations]
Footer Bar: on/off
Custom CSS
…
Custom Widgets
Social Links
Contact Data
Latest Posts (List and Image Style)
Latest Work (List and Image Style)
125 Pixel Ads
Flickr Stream
Twitter (ability to sort out Retweets and/or Responses)
Notes
Support:
If you have any questions, please use the comment section of this item.
This way other users can benefit from the solution as well.
I will try my best to answer every question.
Rating:
If you like my work, please rate it.
If you're about to rate it with less than 5 stars, please let me know the reason first and I will do my best to improve the theme.
Note:
The placeholder images and the Customizer you see in the Live Preview are only for demonstration purpose and are not included in the theme.
Credits
Changelog:

---------------------------------------------------------------------------
Version 1.8
---------------------------------------------------------------------------
FIXED: Sub Nav Walker warnings in Strict Standards mode
FIXED: Issues with admin panel UI
FIXED: Shortcode button disappeard in WP 3.9

---------------------------------------------------------------------------
Version 1.7
---------------------------------------------------------------------------
FIXED: Font and Color QuickPicker in the backend
FIXED: Wrong output of image size settings in the backend

---------------------------------------------------------------------------
Version 1.6
---------------------------------------------------------------------------
FIXED: Minor WordPress 3.5 issues

---------------------------------------------------------------------------
Version 1.5
---------------------------------------------------------------------------
FIXED: Twitter API call

---------------------------------------------------------------------------
Version 1.4
---------------------------------------------------------------------------
ADDED: Front Page Sidebar Area
UPDATED: Twitter Logo
UPDATED: Deprecated Functions (WP 3.4)
FIXED: Texturation bug with image shortcode
FIXED: Firefox 11 Drop Down Menu bug when admin bar is active

---------------------------------------------------------------------------
Version 1.3
---------------------------------------------------------------------------
* After installing the update, you'll have to re-set the excerpt length for   
  the blog if the excerpt is set to "Auto". Now you can also set an
  excerpt length for portfolios separately from the blog.

ADDED: When set to "Auto Excerpt", excerpt lengths can be adjusted for blog
       and portfolios
ADDED: French language
ADDED: Spanish language
ADDED: Option to disable headings for pages
ADDED: Excerpts for pages
ADDED: Documentation now accessible through backend theme options
ADDED: Pinterest social icon
ADDED: Shortcode "Several Entries by Post Type" can now filter by category
ADDED: Excerpt length can be adjusted for all entry shortcodes
UPDATED: ID entry shortcodes automatically figure out post type
UPDATED: Shortcode "Several Entries by ID" sort entries now in order of ID
         occurrence instead of creation date
UPDATED: Shortcode editor looks much nicer now
UPDATED: Various performance improvements
FIXED: Archive layout now adapts blog sidebar settings
FIXED: Lightbox won't add hashtag to URL anymore

---------------------------------------------------------------------------
Version 1.2
---------------------------------------------------------------------------
CHECK: WordPress 3.3 compatible
ADDED: PSD file of the whole layout
ADDED: Archives can now adapt blog layout
ADDED: Link image shortcode to any URL you want
ADDED: Disable auto lightbox for the image shortcode
ADDED: "Read More" link text for "Entry" shortcode changeable
ADDED: "Visit Site" link text for "Entry" with shortcode changeable
ADDED: Piecemaker Slider max. amount of slides now adjustable
ADDED: Dutch language
ADDED: Header and Footer Bar improvements
FIXED: Bug that text color of the Header Bar wasn't adjustable
FIXED: Bug that title of the Ad widget couldn't be changed

---------------------------------------------------------------------------
Version 1.1
---------------------------------------------------------------------------
ADDED: Dutch translation
FIXED: JS bug when inserting post images with lightbox

---------------------------------------------------------------------------
Version 1.0
---------------------------------------------------------------------------
Initial Release
---
Reviews & Comments