Mentor Wordpress Theme - Rating, Reviews, Preview, Demo & Download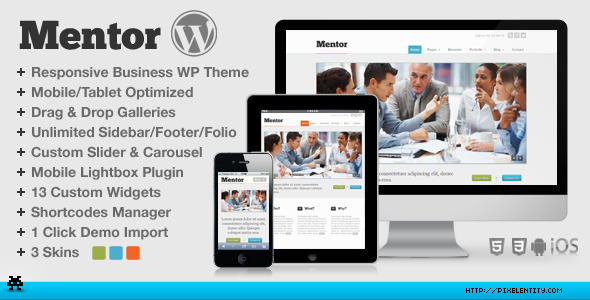 Follow for free plugins, new theme releases and theme newsFollow @wp_themes_dir
---
Theme Description
The pixelentity team is once again proud to bring you our new product: "Mentor" – a fully responsive premium WordPress theme suitable for any kind of business or corporate use. Mentor is built upon the responsive Twitter Bootstrap framework and is bursting with custom features, including a bespoke responsive slider, an intelligent responsive carousel and a custom developed mobile friendly lightbox plugin. With drag n drop gallery management, 1-click demo content import, a brandable admin panel, unlimited widget areas, 13 custom widgets and 3 included skin to choose from, Mentor will be your trusted counselor for your business's online presence. See some of the awesome features listed below and check the above demo to see it in action.
UPDATES:
2014.04.11 – Version 1.4.0 WordPress v3.9 compatibility added. Please upgrade your theme.
25.07.2013 – Theme Updated to support WordPress v3.6
30.06.2012 – Update
Google Web Fonts integrated into theme options panel. See the admin options here: Google Fonts Integration
Help Docs updated explaining new feature
27.06.2012 – Update
Added "Quick Browse" media insertion mode. Used to allow quick searching and selection of existing media for insertion into galleries, posts and pages.
Added fullscreen lighbox video playback support
Added new theme options for an alternative email address for contact form emails and a custom subject line.
Fixed several minor bugs
Updated Docs with new options

CHECK THE ADMIN VIDEOS:
SOME HOT FEATURES:
One Click Demo Import.
Replicate the online preview with a single click in the theme options page.
Import all sidebars/footers/widgets configuration.
Import theme settings and sets custom Home page.
Import attachments (dummy images, not commercial ones used in preview).
Progress bar showing imported percentage completed.
Responsive Lightbox.
Mentor features "Flare": a custom responsive, touch enabled, mobile optimized lightbox which can be used to display single images/videos or entire galleries.
Navigation buttons.
Swipe gestures.
Mousewheel navigation.
Keyboard navigation.
Uses hardware accelerated CSS transforms.
Fallbacks to standard jquery animation in older browers.
Per image scaling mode settings (fit, fill).
Gallery mode with optional thumbnails.
Alternate Gallery Mode with black and white + zoom fullscreen image transition.
Supports multiple galleries in the same page.
Media Tags.
Categorize images.
Assign/remove tags to/from multiple images from Media Library.
Filter images by media tag.
Galleries.
Drag and drop multiple images from your hard drive to quickly create a gallery.
Most recent or custom image sorting (Drag and drop).
Optional use of media tags to create self updating galleries.
Support for password protection.
Sidebars and Footers.
Unlimited custom sidebars.
Unlimited custom footers.
3 different footer layouts.
Each page/post/project can use a different sidebar/footer.
Projects.
Standard/Image/Gallery/Video formats supported.
Slider support.
Project Tags.
Posts.
Standard/Image/Gallery/Video/Quote formats supported.
Slider support.
Portfolios.
Unlimited portfolios.
Optionally include only projects assigned to one or more project tags.
2/3/4/6 columns layouts with optional filtering.
Support for password protection.
Additional Custom Pages.
Full Width.
Left Sidebar.
Home (with head slider).
Contact with ajax submit and optional Google Map.
Custom Slider.
Responsive.
Supports swipe gestures.
Uses hardware accelerated CSS transforms.
Fallbacks to standard jquery animation in older browers.
Fetches images from galleries.
Custom Carousel.
Responsive.
Supports swipe gestures.
Uses hardware accelerated CSS transforms.
Fallbacks to standard jquery animation in older browers.
Latest projects or automatically build related projects list.
Shortcodes.
Shortcode Builder.
Accordions.
Alerts/Buttons/Badges/Icons/Labels.
Columns.
Faqs.
Popovers.
Pricing Boxes.
Tabs.
Tooltips.
Easy Share buttons (facebook, twitter, google +1, pinterest).
Code Syntax Highlighting.
Inline Videos (YouTube, Vimeo, Vid.ly and local video) with auto retrieval of cover image.
Custom Widgets.
Contacts.
Gallery.
Menu.
Newsletter.
Project.
Recent Posts.
Slider.
Social Links.
Stats.
Tabs.
Twitter.
Video.
Other features.
3 included skins.
Localization ready, pot file included.
Comprehensive browser based documentation with lots of screenshots and step by step instructions.
Dedicated Support forum with a proven track record for great after sales support.
Built on our own
full OOP, modular, load on demand
Wordpress framework.
Network install compatible.
Supports child themes.
Developed with WP_DEBUG and Debogger turned on.
Credits: Design & Development of the Mentor WordPress Theme by Pixelentity.
Notes:
While this template has been fully tested on both Honeycomb and Ice Cream Sandwich (ICS) version of the Android operating system, it has been optimized for devices running ICS and Mac iOS.
---
Reviews & Comments