Expose Gallery Wordpress Theme - Rating, Reviews, Preview, Demo & Download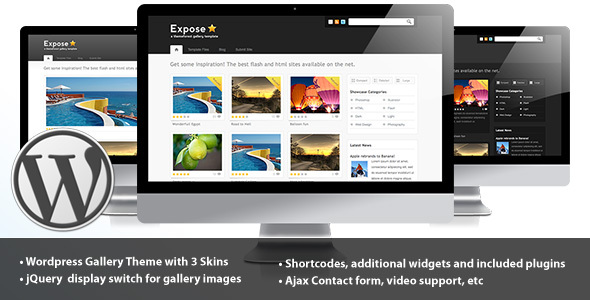 Follow for free plugins, new theme releases and theme newsFollow @wp_themes_dir
---
Theme Description
Expose is a CSS and Showcase Gallery Wordpress Template best suited for Gallery Sites and personal Portfolios. It comes with 3 Skins, uses custom widgets and shortcodes as well as plugins.
Take a look at the html versions to see the different styles:
Expose Default
Expose Dark
Expose Light Modern – no rounded corners
Key features of the template:
Valid XHTM Strict1.0, tableless Design
Multiple Page templates:

Index Page with multiple display options

Display options switched by javascript on the fly
Stored in cookies so the theme remembers which otion the user has choosen

Ajax Contact Page
Ajax Submit Design Page
And many more…

jQuery Support:

Image slider for portfolio entries
Gallery display options switched
Dropdwon Menu, improved with jQuery
jQuery 100% unobtrusive wich degrades gracefully if javascript is turned off
Working ajax/php contact form

Wordpress Shortcodes for addiotional styling and multiple columns
Additional sidebar widgets to display news, advertising widgets as well as a smart widget which shows either blog or gallery categories depending on which page the user is viewing.
Utilizes postrating plugin by default, no need to download or activate it
Supports Wordpress 2.9 and 3.0 with new wordpress 3.0 functions
PSD files included
Extensive Documentation Included
External scripts and resources used:
External scripts and resources used:
flickr creative commons library pictures by: codyR, kretyen, mescon, obskura, freya23
Important Announcement
From this day on, support for all my themes will be available again, but only at the support forum I've setup at my website:
The reason I have choosen to use my own forum are quite simple:
Themeforest support threads are not searchable. Since most questions are asked over and over again a searchable forum will make it possible that you dont even need to wait for my response, because its already there.
Second Reason: people can't respond to each other at themeforest to help each other out, while I am busy with other tasks.
Third Reason: it is very inconvenient for me to check multiple places if support requests where made (here at themeforest, my themeforest mail account, my websites mail account, facebook group, twitter etc)
Therefore I decided to channel those requests at one place and make it available to everyone so all of you guys can benefit.
For more information read the sidebar instructions on how to setup an account and get support
Best regards
Kriesi
Like this template? Check out my other workpieces:
Wordpress:


---
Reviews & Comments