Design Avenue Wordpress Theme - Rating, Reviews, Preview, Demo & Download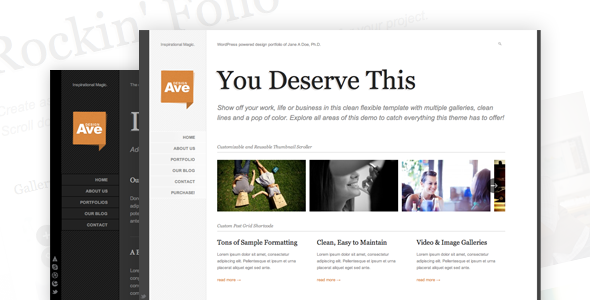 Follow for free plugins, new theme releases and theme newsFollow @wp_themes_dir
---
Theme Description
You Deserve This!
Design Avenue is a unique WordPress theme with clean lines and just the right pop of color and texture! Transform your online portfolio and show your work of in exciting new ways. The clean lines of this theme provide a very easy base to customize if needed now or in the future.
Sample Customizations by Customers
laurendiepenbrock.com
guernseydesignawards.com
(Contact me to add yours)
Video Tutorials found at: www.youtube.com/user/cudazi
Post Formats: Aside, Gallery, Link, Image, Quote, Status, Video, Audio, Chat
Reusable Portfolio Page Templates
Custom Post Types for Portfolio Items and Social Media Links
Dark and Blue Sample Child Themes Included
Drag and Drop WordPress Dropdown Menu
Additional Features
Featured Image Support (Auto-resizing!)
Custom Background Support with Color Picker, Image Uploading
Useful Shortcodes for Post Grid, Thumbnail Scroller, Contact Form, Promo Text and Columns
Custom Meta Boxes for Quick Settings
All Sample Formatting in the Included XML Export
Localized / Internationalized with e() and _() functions.
Auto-show Scroll to Top Link
Tipsy Tooltips
Solid and Extendable
Functions wrapped in if function_exists() for easy overriding in child themes.
Use of get_template_part() and get_post_format()
jQuery loaded in noConflict mode to avoid common conflicts and errors
CSS and JavaScript loaded via wp_register_script() and wp_register_style()
Free Updates and Great Support
I appreciate every purchase (and great comments!) – Updates and support are free after purchase, just watch this section and follow me on Twitter for the latest.
1.0.1 – Minor update to functions.php, changed wp_print_styles to wp_enqueue_scripts for loading css and js files (fixes unwanted styles/scripts loading in the admin)
Photo Credits
Flickr CC Commercial Use Images used for demo with written permission from Mark J Sebastian
---
Reviews & Comments